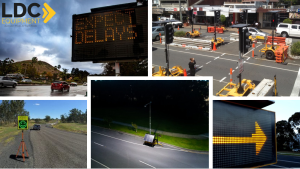 LDC Equipment offers advanced road safety equipment for your workplace to ensure that drivers and pedestrians are safe around civil constructions, council roadworks, and your work site. Ensuring the best Traffic Control equipment in Australia.
Our latest products can offer a cost-effective way to improve Traffic Control around any potential hazards. Including:
Radar Speed Check Signs
Portable Traffic Lights
Lighting Towers
Arrow Boards
VMS and LED Boards
And more!
Radar speed signs are an effective way to encourage drivers to slow their speed to legal speed limits, by showing them the speed at which they are travelling.
Speed signs are an effective way to set new recommended speed limits near any construction work, helping to make sites safer.
These signs are available as trailer mounted or on tripods.
Portable traffic lights help regulate traffic flow effectively and keep the controller out of harm's way by allowing them to monitor the flow of vehicles from a secure place.
Offering 9 frequency channels, they can be operated manually, by timer or by optional radio remote control from omni directional aerials. The portable traffic lights can be paired for shuttle control, or link multiple units to create larger systems of 3- and 4-way traffic, with pedestrian crossings an optional extra.
The Traffic Lights are available as trailer mounted or on tripods.
Our range of lighting towers can offer outdoor lighting and security solution to minimise any potential risks at night. The mast, which can raise up over 6m, illuminates large areas with powerful directional light from 200w LED's.
LDC offers a variety of lighting towers, such as:
Our boards are an effective way to warn oncoming traffic of changed traffic conditions and redirect traffic.
Our variable message signs are trailer mounted or can be attached to vehicle roofs, car trays or the back of trucks.
VMS signs are energy efficient text-based signs that can be programmed with a variety of messages. Messages can be easily changed with a controller, and remote-control options are available.
LDC also offers battery systems available in 12V, 24V, 36V, and 48V, for light to heavy duty use. Can be used for many purposes such as backing up your power supply and off-grid use.