Description
gold coast & brisbane VMS Boards
We design and manufacture coloured and amber Gold Coast and Brisbane VMS boards for distribution throughout Queensland and Australia-wide. Our VMS boards incorporate unique technology that's unparalleled internationally, using a single VMS Core board that integrates all control functions, communications and charging systems onto a single board. This revolutionary design eliminates the complex wiring and fault diagnosis associated with traditional VMS Boards. All wiring is now point to point from the VMS Core to all other components by creating a star pattern. The result is a reduction in possible failure points and massively increased reliability.
Local control is used through a friendly touchscreen controller on a five metre lead. The reason for this, is so that the unit can be used at a safe distance away from the road. On-screen menus make it easy to program when the sign is not in a mobile coverage area.
REMOTE ACCESS & MANAGEMENT OF VMS BOARDS
Remote access is provided through our unique VMS Director™ Software. The software allows a single VMS Board or a fleet of VMS Boards to be easily managed. This service is provided with no ongoing charges on LDC Equipment's servers or can be set up easily on a customer's own servers.
These new products have been re-designed from the ground up with input from our valued customers. Our manufacturer's extensive experience in the production of VMS Boards make our boards the best they can be. There are a number of new features including: plug and play, aluminium case with no fans to maintain, and a flat deck trailer with an integrated battery box offering a lower centre of gravity for increased stability to name but a few.
Proudly Australian made to suit harsh conditions and for the lowest possible cost of ownership.
Australian-Made for Safer Roads
australian-made colour vms board features
Fully automatic brightness control with a manual override
Batteries: 2 x 250 Ah AGM maintenance free
Solar panels: 2 x 120 Watt
GPS Tracking
Next-G Cellular connection with SMS and GPRS updates
2 Year Warranty
Screen: UV Stable Polycarbonate
Raise and lower: Brake winch (no hydraulics to fail)
Wheel locking chains: 2
Recessed tamper resistant LED tail lights (anti-vandalism)
Stainless steel hardware
Dulux powder coat with zinc rich primer
Powerful, low power 32 bit processor
Cooling: Passive (No fans)
Ultra low current draw
Static LED drive for extended LED life
No daisy chain wiring – No cascading faults
Unique point to point internal wiring
Power consumption: Average 50W
Live firmware updates via web
Multiple redundant light sensors
Fully integrated processor, communication and solar charging module
DISPLAY
Display: 2400 x 1400 to AS:4852, Colour or Amber
Matrix resolution: 48 x 28
Pixel Pitch: 50mmx 50mm
Display capability: 4 Lines
Characters per line: Up to 12
LOCAL AND REMOTE CONTROLS
SMS
PC/Laptop with Scheduling
Digital Key: 2 Supplied
Touch screen hand controller
ADD-ON FEATURE
Why not consider our new 3MP Fixed Lens EXIR Tube Network Surveillance Camera as an added feature on your VMS board? With a 360o pivotal action, motion detection, full HD 1080P real-time recording with remote access viewing, up to 50m Infra Red distance, and many more bonus features, this camera is perfect for site security or general traffic surveillance.
Contact LDC Equipment now on (07) 5529 1188 for a quote on our Brisbane or Gold Coast VMS boards and other traffic control equipment and LED signs in our range.
DOWNLOAD PRODUCT BROCHURE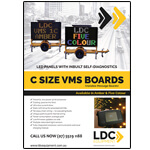 PRODUCT VIDEOS