The 2023 Product Catalogue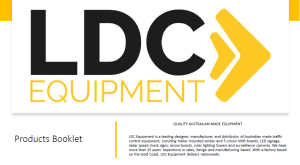 Trailer Mounted Amber and 5 Colour VMS Boards
Grab Attention with the LDC Trailer Mounted VMS Boards!
Looking for top-tier VMS Board to improve your traffic management and display your ads communication? Look no further! LDC Equipment is proud to introducing you our Trailer Mounted Amber and 5 Colour VMS Boards. The ultimate solution for your business and traffic control to displaying dynamic messaging.
Key Features:
High-Visibility Amber & 5 Colour Displays
Portable Trailer Mounting for Easy Placement
Customizable Messages and Graphics
Remote Control for Real-Time Updates
Specifically Designed for Any Weather
Solar Powered
Perfect for:
Construction Zones
Traffic Diversions
Event Directions
Road Safety Messages
Maximize Safety and efficiency on roads and around, work site, highways and event venues with the LDC cutting-edge VMS boards. Get your messages across clearly and effectively!
Radar Speed Check Signs
The LDC Radar Speed Check Signs is perfect to help you control speed and ensure safety on the roads. Stay ahead of roads safety with our technological solar powered Radar Speed Check Signs.
Key Benefits:
Real-Time Speed Display
Traffic-Calming Solution
Data Collection for Analysis
Specially Designed for Durable All-Weather
Easier to Carry around
Perfect for:
School Zones
Residential Areas
Work Zones
High-Traffic Roads
Empower your community with safer streets and responsible driving habits. Get a LDC Radar Speed Check Signs. Where safety meets innovation!
Light it up with the LDC Eco-Friendly Powered Solar Lighting Towers!
Brighten up any space while going green with our cutting-edge Solar Lighting Tower.
Key Features:
Solar-Powered for Sustainable Lighting and Cost-effectiveness
Versatile and Portable Design
Long-Lasting Battery Life
Low Maintenance, High Efficiency
Ideal for Remote Areas, Events and Mining
Easy to Carry around
Perfect for:
Outdoors Events
Construction Sites
Emergency Lighting
Campsites
Mining
Portable Traffic Lights
Improve Traffic Control Anywhere with the LDC Portable Traffic Lights. Take command of traffic flow with our Portable Traffic Lights.
Key Features:
Easy Setup and Operation
Reliable Wireless Technology
Simulate Standard Traffic Patterns
Ideal for Construction Zones
Improve Safety and Efficiency
Easier to carry
Perfect for:
Roadwork Sites
School Crossings
Temporary Intersections
Special Events
Keep roads moving smoothly even during challenging situations. LDC Portable Traffic Lights here convenience meets traffic management excellence!