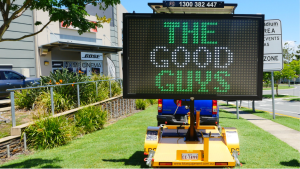 business
You might think to yourself, why would a business need road safety equipment? The thing is that some of our products is not just made for the road or at worksites. Some can provide essential benefits for businesses, big or small.
LDC Equipment can provide businesses with signage, lighting products and other equipment.
Such equipment include:
There are many reasons why this equipment can be effective for Businesses.
LED Signage
Bringing Attention: Our LED signage can attract potential customers whether driving or walking past. With the creative use of the colours and imagery displayed for the public, can help make the business unique and separate from competitors.
Important Information: LED Signs can be useful in displaying information in real-time. Such as, opening and closing times, promotions, discounts, or any change that customers should know about. What makes these signs different from traditional signs that they can be changed and updated at any time.
Custom-Made: The kind of messages, images, colours, and other visual element that can be displayed can be customises to your own business and your target audience, instead of generic signage.
Increase Interest: An effective message can increase curiosity for the public and potentially boost sales.
Unique: One of our signs can help make a business stand out, especially if surrounded by other business such as a complex.
Lighting
Working at night: If you have a business that is open at night, or sometimes extends their opening hours, one of our lighting towers can be useful. Whether, it is for safety, security, replace a traditional light post, or provide extra lighting.
Advertising: A light can shine onto a business' signage or logo to being into awareness for the public, even if close at night.
Products for Businesses
Solar Lighting Towers
Efficiency: Our units run completely on solar power, so they can operate for long periods of time without a power supply, grid, diesel, or other.
Cost-Effective: Though purchasing a unit may be costly to begin, you save money in the long-run, as additional cost such as re-charging or maintenance are much lower than traditional units.
Eco-Friendly: These units produce no emission, beneficial for the environment and provides a sustainable image for your business.
Easy to Install: These units are easy to install and do not require much time to set up. For instance, no wiring or plugin.
Durability: These towers are designed to last long hours and withstand different weather conditions.
Custom Made: Custom laser cut branding on purchased units.
Low-Maintenance: Solar Light Tower require very little maintenance and check-ups than conventional towers.
VMS Boards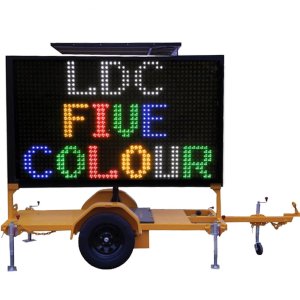 Parking Lots: Can provide parking information to drivers, such as directions, availability, or rates.
Promotion: Our coloured signs can be beneficial to increase sales and interest. By displaying a discount, specials, new product, or other announcements.
Events: Signage can display special event that increase foot traffic such as 'Black Friday this week'.
Information: To express a general message or update such as extended opening hours.
Directional: If a business is in a large complex or centre. A signage can point out where you are to visitors.
Real-Time: The displayed messages can be updated in real-time to avoid any customer complaints such as "closing soon or out of stock".
Branding: It is important to be unique and stand out with branding such as logo or taglines. Our boards can display any message or image with your brand colouring.
LED Signs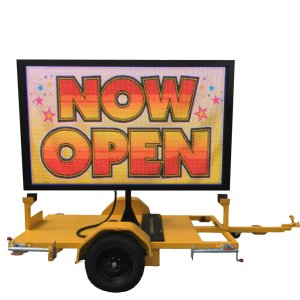 Visibility: These signs can standout at any time, gaining attention from the public and entice people to enter the store.
Publicity: Our models allow for variety of messages such as promotions, deals & specials, product announcements, and more.
Cost-Effective: Can be cheaper than traditional signage as you can change the message and imagery ay any time with little maintenance.
Real-Time: Most business have daily, or weekly updates and our signs can be used to display that information to the public.
Branding: Brand image is always important, and our signs can display any imagery such as logo, tagline, graphics, colour, and more.
Efficiency: Other neon or light signs often use more energy than our LED signs.