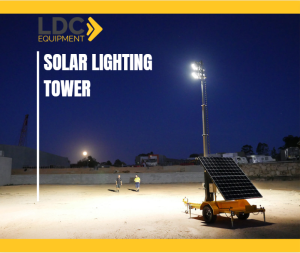 Lighting Towers are a cost-effective outdoor and security solution, that can be transported to different locations, where traditional lighting is not available. Our lighting towers are completely solar powered. Using natural energy to charge and generate power,
Working with machinery outdoors at night can be a safety hazard, but a solar lighting tower can provide plenty of light to help minimise the risk. Helping workers on site do their job safely and more effectively with directional light provided by powerful 200w LED's. The LED lights are mounted onto a mast that can be raised up to 6 metres in height.
Lighting Towers Australia wide delivery. With a factory based on the Gold Coast and expanding. LDC Equipment delivers nationwide, and near you.
Features of the Solar Lighting Tower:
Solar Panels: All our towers are installed with solar panels, to obtain sunlight, stored into a battery bank, and transfer into energy. No diesel or other resources are required.
Lights: Our towers use LEDs lights that uses less power, but brighter and focused lights than traditional towers currently on the market.
Trailer Mounted: The structure is designed to rise or bring down the LEDs and provide light to a wide desired area.
Control Features: The unit is completely autonomous, turning on at dusk and off at dawn automatically.
Transport: Our light tower range are manufactured to be trailer-mounted for easy transportation and positioning. Together with the mobile trailer, it's easy to move the unit to shine light on the desired area.
Eco-friendly: Offers a light tower without a generator. These towers obtain its energy by natural energy. Reducing carbon emission and avoids releasing harmful pollution.
Benefits of the Solar Lighting Towers:
Energy Efficiency Use: The LED Lights installed are energy-efficient, resulting in using less power when in operation.
Renewable Energy: Uses the sun's energy to operate. Reducing the use of fossils fuels and pollution of harmful emissions.
Costs Effective: Lighting towers can be a cheaper option in the long run. As the use of solar energy is free meaning there is no fuel expenses, and little maintenance involved.
Remote Areas: Can be used in remote or off-the-grid locations where access to electricity is limited.
Eco-Friendly: Traditional Lighting Towers on the market tend to use diesel, which produce harmful emissions and create noise, which can cause issues for nightwork in certain areas.
Easy to Install: We understand that our lighting towers are commonly used on temporary basis. They are designed to be set up quickly and easy to move around as required.
Low Maintenance: There is commonly very little maintenance required. No fuel or engine services or checks are needed.
Safety: To be able to provide bright light in a desired area helps decrease the risk of road or work-related accidents.
Quiet Space: Traditional light towers with diesel generators tend to be very noisy, which can cause issues in certain areas. Some sites may restrict the use of those machines due to noise complaints.
Common uses of the Solar Lighting Towers:
Our Solar Light Towers can be used for all types of applications. Such as, civil works, traffic control, construction works, mine sites, night works, outdoor events, car parks, machinery yards, open spaces, residential areas, sport clubs, and more.
Construction Sites: Providing lighting during nighttime work. Creating a safe environment for the workers at any hour.
Events: Used for outdoor events or venues that needs temporary lighting. Usually, where traditional lights such as light poles are not in use. Such as for car parks, pathways, stages, and other spaces.
Traffic Control: Very effective in road projects. Lighting up the roads to ensure the safety of workers and drivers during night work.
Emergency: Can be valuable during emergencies or unprecedented situations. Providing lighting in affected areas, assisting in operations, and adding safety to those in the areas.
Mining: Act as a reliable source of lighting at mining sites, whether remote or off-the-grid. As these towers can be in operation without the need for a generator. Increase the safety of the work and providing light when needed.
Outdoor Spaces: Can be used in parking areas or other outdoor being used by the public. Commonly, where the standard lighting in the area is not in operational, or to add additional lighting if needed.
Security: A bright light covering a wide area can be used for surveillance and extra security during the night.
Filming Productions: Can be used for filming productions, most film shoots require a lighting source. Our towers can be moved easily from place to place and makes no noise to interrupt the filming process.
Agricultural: Can be used for these locations, such as farms, if there is any additional lighting required or during the night.