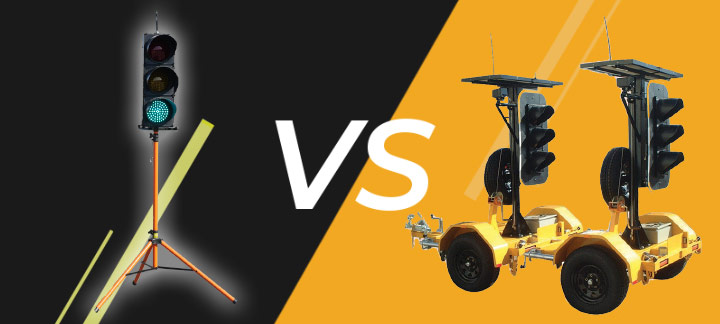 Portable traffic lights are essential safety equipment for roadworks and traffic management. They help to keep traffic controllers off the road and out of harms way.
Our sets of portable traffic lights are available in two different models, the tripod mounted PTL3 and the trailer mounted PTL2. Both units are portable and can be set up by one person. However, let's look at some of the differences between the two models and their ideal usage case scenarios.
PTL3
The tripod mounted PTL3 is a lightweight unit, easily transportable by car and can be set up quickly. Its capable of communicating with multiple units. In most situations a pair of PTL3's will be used on a two-lane road to direct traffic as would be done traditionally by Stop/Go sign traffic controllers.
With the PTL3, a traffic controller must be present to switch the lights via a remote control, which can be done safely off road. Each unit is battery powered with up to 15 hours of run time before needing a recharge. Or an optional external battery pack can be purchased to provide more than double additional run time.
PTL2
The trailer mounted PTL2 does not require a traffic controller. It can be set to function autonomously, like standard traffic lights with timers, or by vehicle sensor. Although, an optional hand controller is available if manual control is required.
This portable traffic light is easy to set up and transport by a vehicle with a tow bar. Its also solar powered for completely self-powered operation.
For temporary traffic lights which need to be left on the road unsupervised, the PTL2 is the ideal choice.
It can also be used in multiple formats and variations, from pedestrian crossings to 3 and 4-way operation.