Join the safer roads movement with our latest release?. The PTL-3 Type-1 PTSS!
Own one from as little as $9.00+gst per day!
Designed to meet and exceed Queensland Transport & Main Roads specifications, the PTL-3 Type-1 PTSS offers improved safety for Traffic Controllers over the traditional Stop/Go sign and gets your TC?s off the road and out of harms? way.
The PTL-3 Type-1 is mounted on a sturdy fold-able stand, and can be operated as one unit, as a pair for shuttle control or in a gating/plant crossing mode. By adding another set, these can be set up to control a 3 or 4 way intersection which can be controlled by a single operator.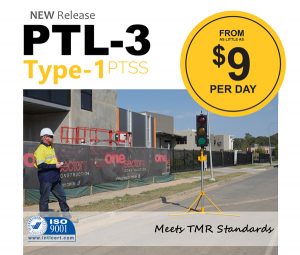 Main features:
15 hour run time of each traffic light with internal battery set up after full charge
50 hour run time of radio remote control after full charge
Optional external battery to add an additional 50 hours of run time to each light
External battery can also act as a portable charger to re-charge light heads, and radio remote control ? approximate charge time 5 hours
Head weighs 6.9kg each
Stand weighs 3.2kg each
Optional External battery weighs 4.3kg
Functions:
Single Unit operation
Shuttle operation (2 way)
Gating / Plant Crossing function
3 and 4 way intersection ability
Multiple units
Benefits:
Ultra low Power Consumption
Easy Transportation
Lightweight and Compact
Set up in seconds
Easy to use
Charge time is approximately 5 hours from low battery warning state