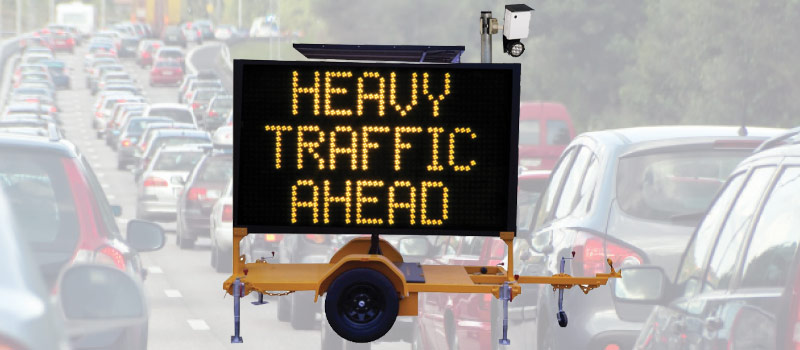 Clients often contact us with customisation requests with our products. A popular addon is to include a camera for surveillance and security. Here are some of the products we've added cameras to, but we can mount a camera on to almost anything.
Solar VMS Cam
Our variable message signs can be outfitted with cameras on top of the board to add surveillance capability. With this combination, remote operation of both the camera and VMS board are possible allowing you not only to change the messages, but remotely see what's going on as well.
Be alerted for floods and traffic incidents and update messages on the board as needed. All powered by solar.
Standing Solar Street Light
The standing solar street light is available in three different models. Apart from the regular light, we also have a combined camera model and an independent camera model as well.
A pan, tilt and zoom (PTZ) camera allows full surveillance of the surroundings in remote or unattended locations
These units also feature lifting hooks and fork pockets on the base for easy transportation.
Solar t-Cam
For a highly mobile unit, our camera trailer can't be beat. Featuring a mast that raises up to 6 metres in height, this camera trailer provides great surveillance capability ideal for a worksite or warehouse scenario where mobility is essential.
Solar Lighting tower
We can mount a camera to the solar lighting tower for additional security. This combined with the additional benefit of bright LED lights will help deter intruders. The solar lighting tower also has a mast which can raise up to 6 metres in height.
For all your security and surveillance needs with our products, please contact one of our friendly staff to talk more about your needs.