WHY SOLAR LIGHTING TOWERS ARE MORE COST-EFFECTIVE THAN DIESEL
If you're considering investing in lighting towers for your building, mining or construction project in Queensland, here are some of the many reasons why our Gold Coast solar lighting towers are a smarter and more cost-effective option than diesel.
SOLAR LIGHTING TOWERS ARE CHEAPER TO RUN THAN DIESEL
While the lower upfront cost of diesel lighting towers may leave you questioning whether it's worth spending the additional dollars for the solar alternative, if you consider the running costs for diesel towers, these are far more expensive long-term. For example, a 12,000 watt diesel lighting tower uses 2.5 litres of diesel an hour while it's running at a load of 64%. So if it's being used around-the-clock, the diesel consumption is as high as 60 litres a day. Also, because the fuel tank capacity of a tower this size is 250 litres, it has between 100 to 110 hours run time, which means there's the further inconvenience of having to regularly re-fuel it, resulting in further downtime on site.
Whereas solar lighting towers are powered with solar energy, so once you've paid the buy or lease price for the tower, there's no running cost.
UNLIKE DIESEL, SOLAR LIGHTING TOWERS REQUIRE LESS MAINTENANCE
Diesel lighting towers have a diesel motor, so regular maintenance is required for these to perform reliably and efficiently, such as oil and air filter changes. Additional maintenance increases the cost of running this type of tower, when compared to solar lighting towers which require minimal or no maintenance. Because solar lighting towers don't require maintenance, these are also good to "set-and-forget" in remote locations.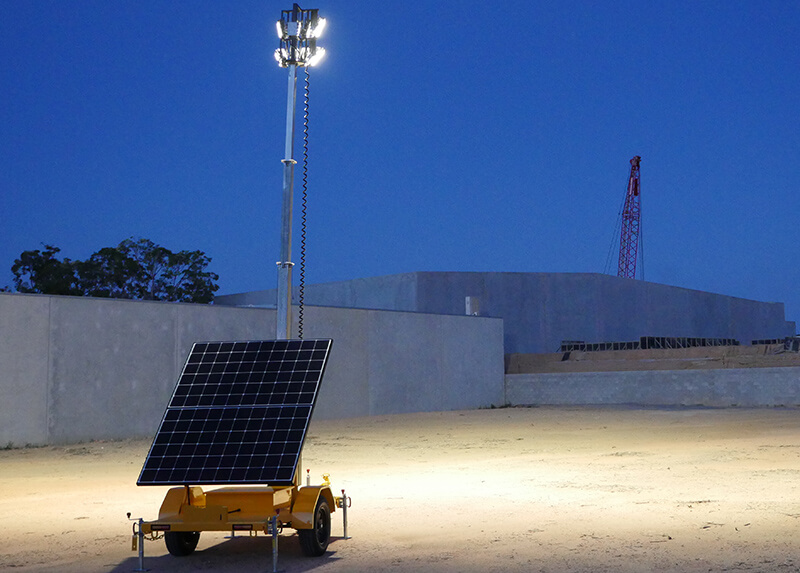 SOLAR LIGHTING TOWERS HAVE NO EMISSIONS
When running, diesel lighting towers emit CO2 gas, which is toxic for human consumption and the environment. As solar lighting towers are powered by natural energy there are no chemical emissions released, so these are a more eco-friendly option.
SOLAR LIGHTING TOWERS ARE QUIETER TO RUN THAN DIESEL
Because diesel lighting towers are powered by a diesel motor, these are noisier to run than solar. This can prove to be a problem if it's after hours and there are noise restrictions in the area where the diesel lighting tower is located.
If you would like to find out more about the benefits of choosing solar lighting towers over diesel, contact our friendly team at LDC Equipment today on (07) 5518 7134. We design and manufacture superior quality solar lighting towers, VMS boards and traffic control equipment on the Gold Coast, with upfront purchase or rent-to-buy terms available, as well as affordable finance.