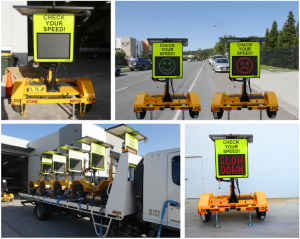 Happy Harry is always smiling green if drivers obey his speed limit.
His good mood can quickly change though, especially if drivers decide to ignore him. Happy Harry will become sad and turn red, letting the driver know to slow down while displaying their oncoming speed.
Nobody wants to see him upset, so drivers are more likely to reduce their speed and obey the limit when seeing his face.
The trailer mounted unit has the largest sign of the lot and a more noticeable presence with its yellow trailer, compared with tripod or fixed pole unit. If visibility is the most crucial factor in your choice, the trailer mounted unit provides the most impact.
Our experienced local engineers have specifically designed the sign to operate as simply and effectively as possible.
Drawing less than 1 amp, the radar speed check sign is robust, cost-effective, and environmentally friendly. It relies on the sun's energy for its entire operation, as well adapting to automatic brightness changes when changing between day and night.
A fantastic solution for advising motorists of speed changes and monitoring motorist speed behaviour, the radar speed sign is easy to transport and set-up.
Our radar speed sign units detect and record the speed of each vehicle as it travels towards the sign, displaying a corresponding message visible for the driver to see. Our local engineers have designed these messages to display either a 'smiley' or 'sad face' depending on whether the vehicle is travelling at the correct speed or over-speed. An ensuing 'SLOW DOWN' message will deter speeding motorists, followed by the specified speed limit.
The radar speed signs assist in:
Reduces the speed of traffic by creating awareness to drivers.
The public are conscious of speeding vehicles.
Prevents danger in high-risk locations.
Increases safety for all drivers on the road and pedestrians.
Prevents potential incidents in high-risk areas.
Cost effective solution for areas prone to speeding.