LDC Equipment designs and manufactures high quality Gold Coast security cameras and lighting towers, to keep your work site, factory or warehouse secure 24-hours-a-day, 7-days-a-week. Our security surveillance cameras and lighting towers are wireless and completely powered by solar energy, so there are no ongoing running costs.
We have site security available for small and large-scale civil construction, building and mine sites, as well as factories, warehouses and storage facilities. LDC Equipment regularly operates throughout Brisbane, the Gold Coast, Sunshine Coast, Ipswich, Byron Bay and greater Queensland and New South Wales. We also service Australia-wide.
Whether you're wanting short-term site security to protect your equipment and buildings over weekends and public holidays, through to 24/7 surveillance, we have the ideal solution for you.
Fully automated light towers and solar surveillance cameras
Our Gold Coast solar security cameras and solar light towers are fully automated to set-and-forget, so you have peace-of-mind your site is secure, without the need to program your equipment on a daily basis. You can also program the solar security cameras remotely, using a smart phone, PC or tablet, as well as login to your mobile device and view your site at any time of the day or night. We can tailor a site security surveillance package for your individual needs, with single or multiple cameras and light towers.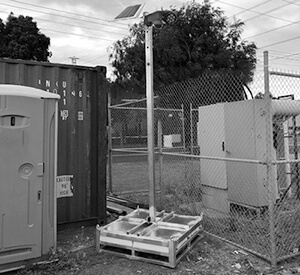 Benefits of our solar surveillance cameras
Our solar surveillance cameras are an effective deterrent for thieves, trespassers and any other unwanted visitors considering breaking into your work site, factory or warehouse. The cameras also enable you to be able to login and check real time or recorded footage of your work site after hours, if you're concerned there may be contractors or staff stealing materials, tools or equipment from your premises.
Some of the many benefits of our solar PTZ security cameras include:
Wireless motion detection
Wide range of capabilities from live streaming to CCTV recording & still images
Pan tilt zoom (PTZ) camera function
Inbuilt time lapse mode
CCTV footage storage capacity of up to 3 weeks
Capabilities to network between multiple cameras for larger sites
Remote monitoring & management using a smart phone, PC or tablet
Back-to-base monitoring function, allowing hundreds of cameras to be viewed on a single screen
Call LDC Equipment today on (07) 5529 1188 to arrange a tailored site security package for your business. We also have affordable finance available for our Gold Coast light towers and surveillance cameras.