Night safety focus for National Road Safety Week
LDC Equipment is focusing on the importance of having adequate night safety measures in place on civil and roadworks sites for National Road Safety Week, such as our Queensland traffic equipment. We pride ourselves on developing a wide range of high quality Australian designed and manufactured traffic control and safety products, to help protect those working on road and civil works.
For contractors, labourers and traffic controllers working at night or in the early hours of the morning, there are increased risks due to drivers and workers experiencing poorer visibility and tiredness, which often results in slower reaction times if incidents arise. By using the right traffic control and safety equipment for the type and scope of works being undertaken, these risks can be more effectively controlled to avoid accidents occurring.
Different types of traffic control equipment for night safety
There is a wide range of traffic control and safety equipment available to enhance night safety for road and civil works. Traffic control equipment is crucial for directing traffic and keeping contractors and traffic controllers safe. Whether you install VMS trailers or VMS boards, vehicle mounted arrow boards, radar speed signs or portable and pedestrian traffic lights on your site, it's essential to have reliable traffic management equipment for undertaking night works.
Safety equipment, such as road barriers, are also important for road safety at night. Road barriers not only protect those working on road or civil works from passing traffic and help drivers navigate roadworks safety, the barriers also protect drivers if they have an accident, by absorbing most of the impact.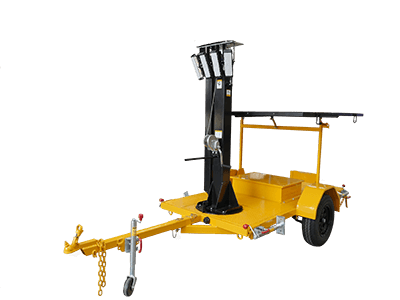 Industrial lighting for night safety
Integral to night safety is having adequate industrial lighting measures in place. Some alternatives we currently have available on the market include our Gold Coast and Brisbane solar lighting towers and solar street lights. The benefit of having solar powered lighting for road and civil works is these are eco-friendly alternative and have no ongoing running costs. Our solar lighting is also fully automated to switch on at dawn and dusk, which makes it a more efficient alternative for works in more remote or isolated areas.
High visibility vests and clothing
Another key element to night safety is having contractors and traffic controllers wearing high visibility vests and clothing. While it's not always possible to have your complete road or civil works fully illuminated at night, by ensuring those working onsite are wearing appropriate high visibility apparel, it helps to minimise the chances of accidents developing.
If you have a future road or civil project to complete and are planning on having night works, contact LDC Equipment on (07) 5529 1188 for quality Queensland traffic equipment and safety equipment. We distribute locally in Brisbane, the Gold Coast, Sunshine Coast, greater Queensland and Australia-wide.