If you consider that in 2018 alone there were 169 pedestrian fatalities on Australian roads, the importance of having adequate safety measures in place for roadworks, such as our Gold Coast portable pedestrian traffic lights, becomes readily apparent. Out of these pedestrian road fatalities, people aged 75 and over accounted for the highest number of cases. (Australian Government Road Safety Statistics)
Portable pedestrian traffic lights for areas with increased foot traffic
LDC Equipment on the Gold Coast introduced portable pedestrian traffic lights in Queensland and nationally in response to the need for enhanced public safety on Australian roads especially for areas experiencing a higher volume of foot traffic, with no permanent safety measures in place. These include during civil works, roadworks, private and corporate events and sports competitions and festivals.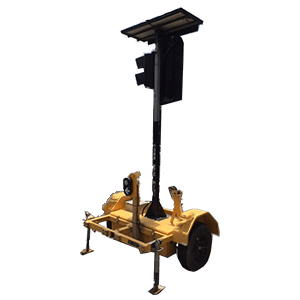 Trailer mounted and solar powered
The temporary pedestrian traffic lights are trailer mounted, for easy and efficient transportation. As the lights are solar powered, there's also no ongoing running costs, making these a cost-effective alternative for traffic control. Depending on individual needs, a surveillance camera can be installed on the portable traffic lights to monitor pedestrians and drivers and ensure traffic crossing regulations are being followed.
Temporary pedestrian traffic light features
LDC Equipment's temporary pedestrian traffic lights are designed and manufactured on the Gold Coast with a wide range of specialised features. These include:
Traffic light configuration for both single & dual carriageways
Touch button tactile system
Audible traffic signal so pedestrians can identify when it's safe to cross
Pedestrian traffic lights are designed and manufactured to meet Australian standard AS4191
Trailer mounted for mobility
Solar powered (no running costs)
If you'd like a quote on our Gold Coast pedestrian traffic lights for temporary pedestrian crossings, contact our friendly team at LDC Equipment today on (07) 5529 1188. We also have a wide range of other traffic control equipment available, from LED signs and VMS trailers to solar light towers. Our team can tailor a traffic control equipment package to suit your needs and budget.