When customers ask us if we have diesel light towers for sale, we let them know why we no longer stock this outdated product. The benefits of solar light towers are just too big to ignore.
LDC Equipment is dedicated to supplying our customers with the most innovative and cost-effective Australian made traffic equipment available on the market.


We made the decision to design and manufacture solar lighting towers as a replacement for the diesel alternative, due to the solar version being far more financially viable, in terms of return on investment.
The fact that the solar version is also environmentally friendly by with no noise or emissions is a welcome added bonus on top.


In the infographics we've highlighted the differences between the potential investment returns when purchasing a solar lighting tower over a diesel lighting tower with the intention of putting it out for hire.
The information listed is also relevant to those purchasing a lighting tower for civil, construction, building or event applications when comparing expenses, servicing and lifespan between the two products.


We've provided this information to substantiate our claim that solar lighting towers are a better investment for our customers, and to make it easier for you decide on the right lighting tower for your next purchase.
If you'd like to find out more about the features and benefits of our solar lighting towers or speak to us about finance options, contact us on (07) 5529 1188 and we'll be glad to tell you more.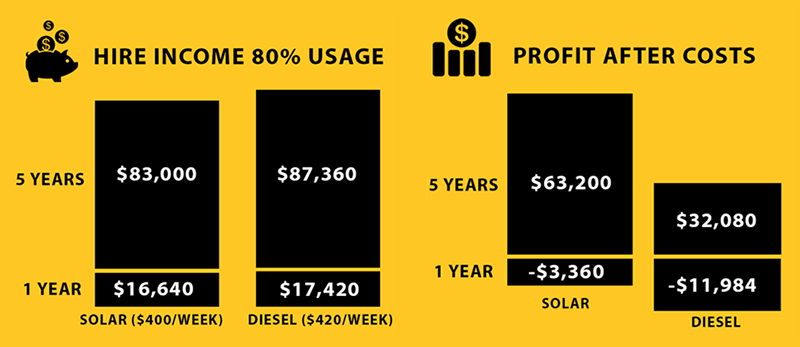 *Information in cost comparison based on current market values. All figures plus GST.